Antique Table Lamp and Victorian Lampshade
by Vintage Shades
This one has sold. Can we make something similar for you?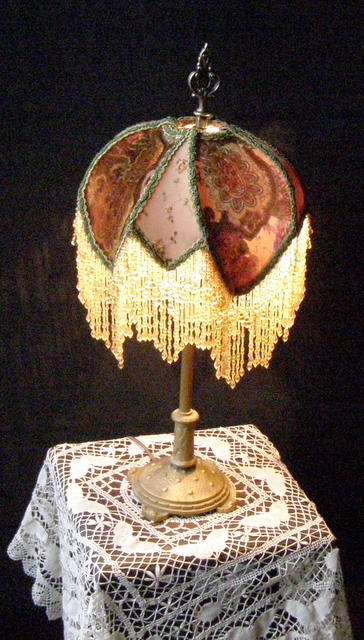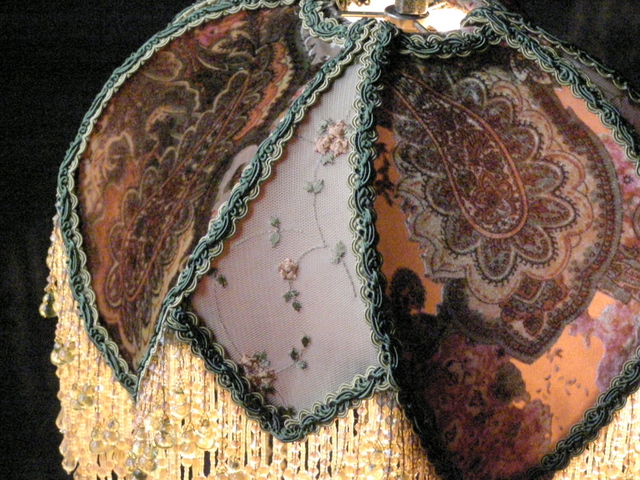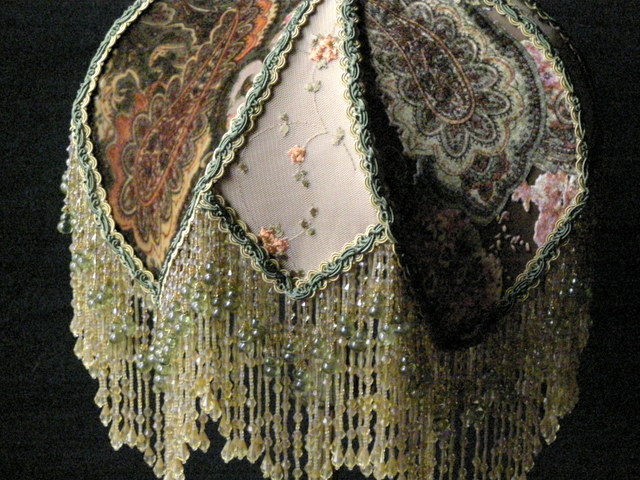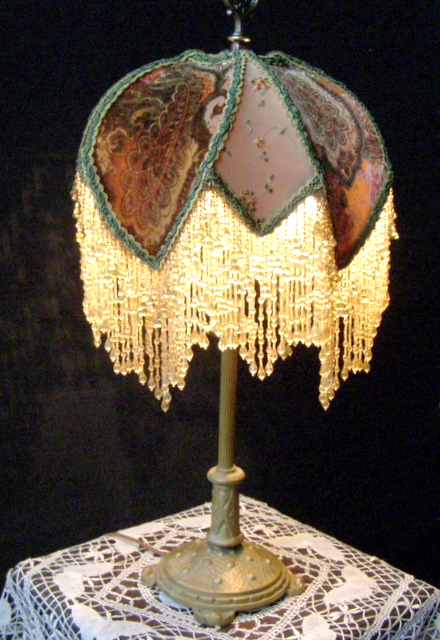 We are selling the Antique Lamp and the Lampshade. The lamp is a heavy cast iron antique base circa 1920. This lamp and shade are a great accent piece for any Victorian room. The shade is a very Vintage looking piece and looks as old as the lamp. The lamp and shade are 24" tall -- the shade is about 13" wide. Lamp comes with a finial that is 4" tall. It has been rewired and is ready to use.
This is an original Lampshade from Vintage Shades. This shade was hand-made in our studio in the US. The lampshade has a very vintage look -- and is Beautiful when Lighted. The main panels are a burn-out silk velvet paisley design in dark sage, and olive green with clusters of flowers in a deep pink, burnt orange, and gold. All on a dark peach background. Smaller panels are embroidered netting with clusters of burnt orange, sage-olive clusters with embroidered vines -- over a patterned deep gold silk giving it a warm glow. Two layers of matching beaded fringe.
All of our lampshades are lined inside with silk -- the finest fabrics and trims have been used in making this beautiful piece. All new fabric was used in making this shade. We have been making shades for over 13 years, and offer many styles and color choices. Please contact us if you have questions. Phone 951-240-5663.
Price for the Antique Lamp and Lampshade $360.00
Order # VS20775
"TOO MUCH IS NEVER ENOUGH"
Visit Our Home Page For More Lampshade and Lighting Ideas