Victorian Lampshade
Hi Kelly, I just wanted to let you know the shade is gorgeous! Everyone who sees it remarks how beautiful it is. It has become the focal point of my living room. Thanks again, Susan
Can we make a similar shade you?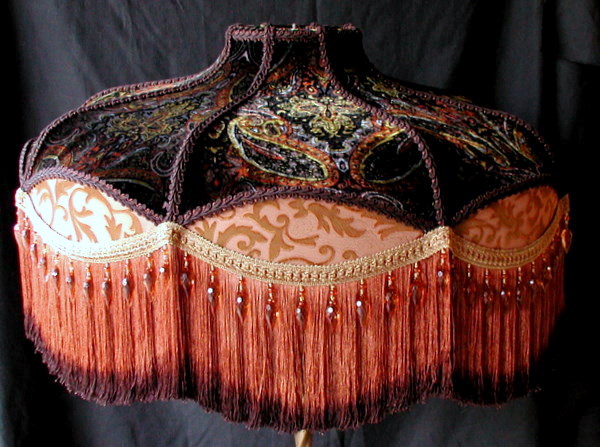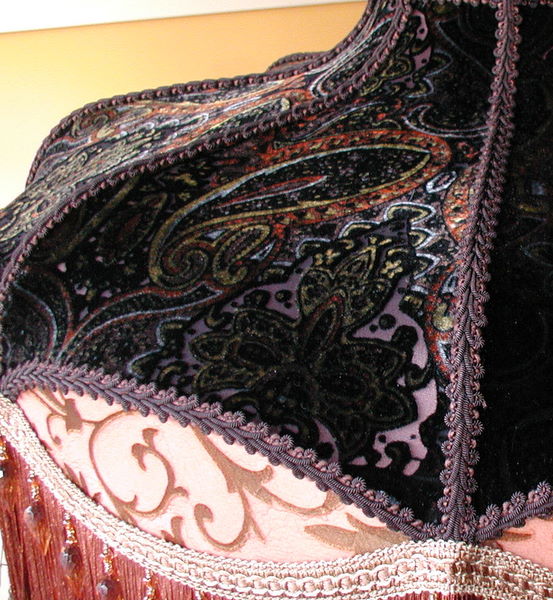 This is an original Lampshade from Vintage Shades. This shade was hand-made by us in our studio in the US. This unique shade is made from burn-out silk velvet. It is a mix of gold-bronze and copper color in a paisley style. It really is a beautiful fabric -- but a little hard to photograph. The lower panels on this shade are a silk burn-out velvet in a leaf design. Matching burnt cooper fringe with a large faceted beaded fringe overlay. It is lined inside with silk -- the finest fabrics and trims have been used in making this beautiful piece.
This lampshade is called a Large Garden. It has a 6" top opening and is 26" across the bottom. Overall height with the fringe is about 16". Great size for a large floor lamp or large table lamp. This is a great shade for a large wooden lamp.

All new fabric was used in making this shade. We have been making shades for over 12 years, and offer many styles and color choices. Please contact us if you have questions. Phone 951-240-5663.