Elegant Victorian Lampshade
Custom Order Today -- Many Fabrics Available -- Phone 951-240-5663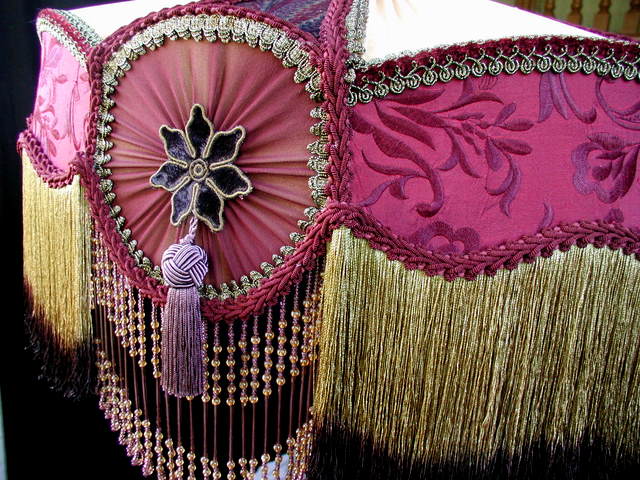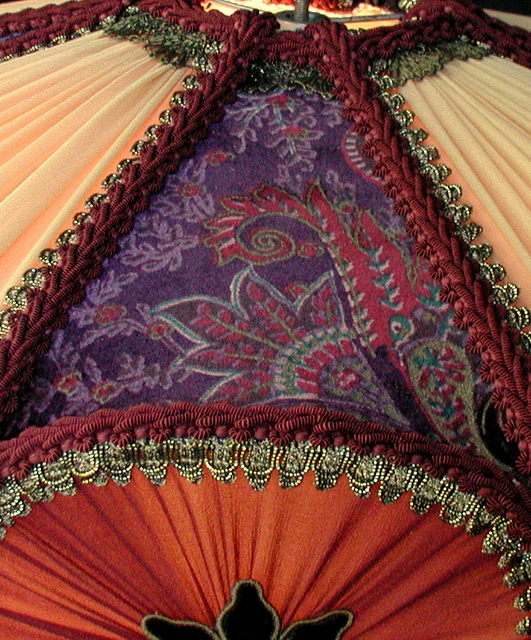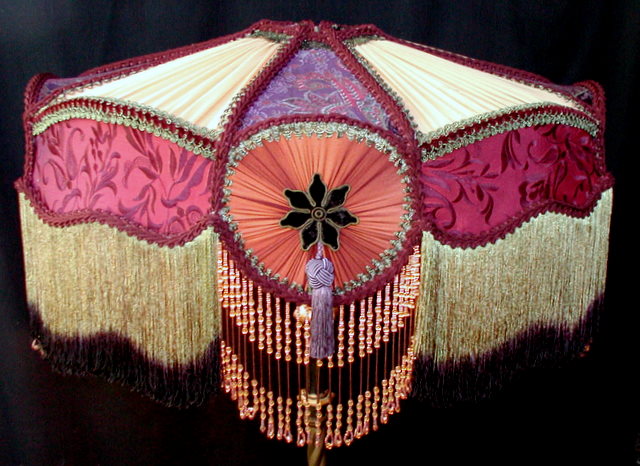 The colors of this lampshade are a wonderful mix giving a very vintage result.
The top fabric on this shade is a vintage looking velvet in a beautiful blend of burgundy, eggplant, and soft straw gold. The top alternate panels are pleated silk chiffon in soft straw gold. Rosettes on the circle panels are burgundy chiffon with star flowers made of eggplant silk velvet and bronze stitching . An amethyst tassel hangs from the star flower in each panel. The long side panels of this shade are a deep red silk with an eggplant embroidered stitching.
Straw gold silky fringe tipped in eggplant is seven inches long. Under each of the circle panels, glass beaded fringe has been used -- this fringe is amethyst and soft gold.
Trims are vintage style braid mixed with metallic braiding on much of the shade. Around the top is a piece of antique metallic trim from France.
Size: Top is 4" / bottom 17" x 23 1/2" / 9" tall without fringe / 16" tall including the fringe.

This shade was hand-made by us in our studio in the US. It is lined inside with silk -- the finest fabrics and trims have been used in making this beautiful piece. All new materials were used in making this shade. We have been making shades for over 12 years, and offer many styles and color choices. Please contact us if you have questions.
Order # VS20747
$595.00
To Order
"TOO MUCH IS NEVER ENOUGH"
Visit Our Home Page For More Lampshade and Lighting Ideas