Elegant Victorian Lampshade - "Frenchy" Style
Custom Order Today -- Many Fabrics Available -- Phone 951-240-5663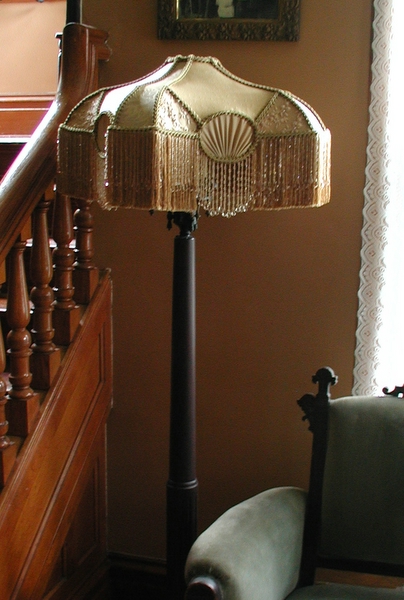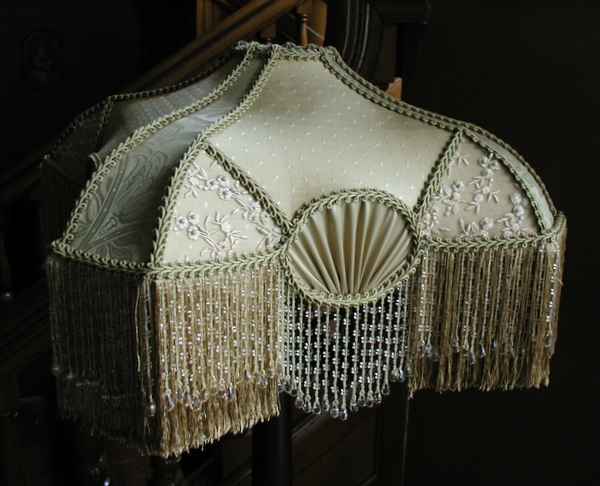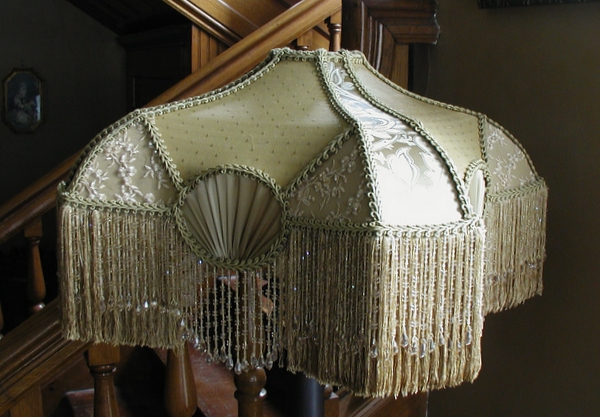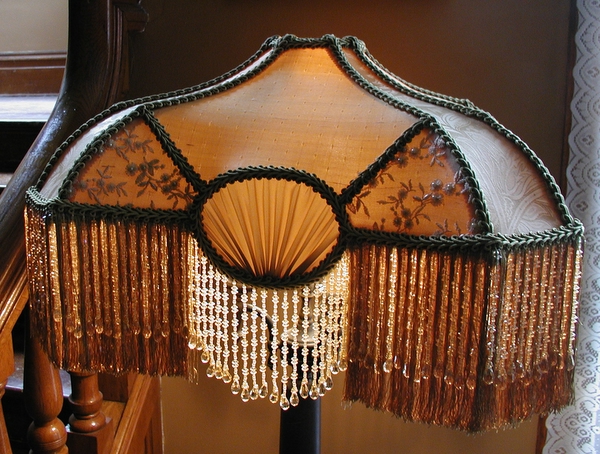 This monochromatic gold lampshade is the "new" neutral color. Gold shades blend well and have a wonderful lighted glow. This shade also has a great vintage look that goes well with an antique lamp. It is a very elegant shade and looks great with many decorating styles -- not just Victorian. But if you have a Victorian room, it will be a great enhancement.
The gold silk fabric on the larger panels has small diamond shaped designs. On the corners of each large panel is an embroidered lace with sequins and beads. The fabric on the narrow pieces is a monochromatic gold with a paisley design. The four ovals are fan pleated in gold silk charmeuse. Matching trim and fringe have been used. As well as a six-inch bead overlay.

Perfect size for a floor lamp or larger table lamp. The first photo shows the shade on a large wooden lamp, and while it will work on a large lamp like this one -- it also looks perfect on a metal lamp 60" to 63" tall. The shade is 16" from side to side / 25" corner to corner / 16" tall including the fringe. It has a wonderfully unique shape.
This shade was hand-made by us in our studio in the US. It is lined inside with silk -- the finest fabrics and trims have been used in making this beautiful piece. We have been making shades for over 12 years, and offer many styles and color choices. Please contact us if you have questions.
Price: $325 to $429 depending on fabrics and trims.
Order # VS20722
To Order
Custom Order Today -- Many Fabrics Available -- Phone 951-240-5663
"TOO MUCH IS NEVER ENOUGH"
Visit Our Home Page For More Lampshade and Lighting Ideas