Antique Floor Lamp and Victorian Lampshade
This lamp and shade
have been sold. Can we make a similar one for you?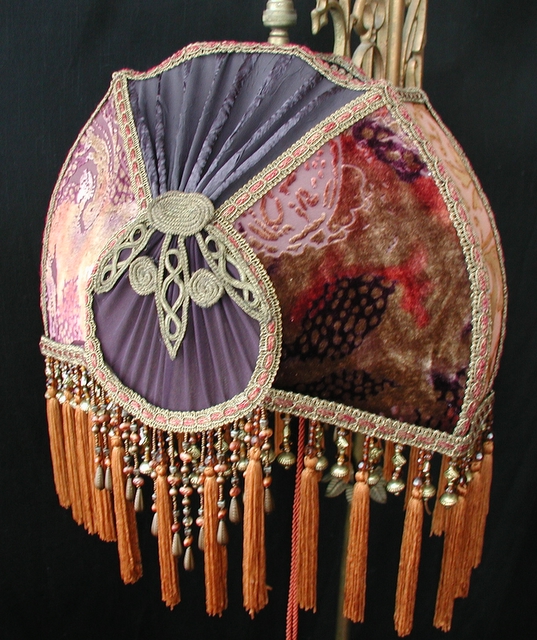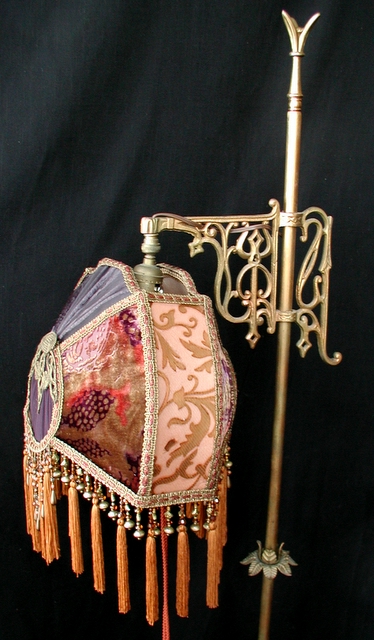 This antique lamp and Victorian lampshade make a very Victorian combination.
The lamp is an antique from the 1920's -- made of cast iron and brass. The bridge arm is very unique with ornate casting. This lamp is nice and heavy and stable -- it will not tip over easily. It is 58" to the top of the bridge arm. It has been rewired and is ready to use.
The lampshade was made especially for the lamp. The larger front and rear panels are made of a burn-out silk velvet in colors of burnt amber, eggplant, gold, and deep red. The end panels are also a burn-out silk. A vintage metallic piece is used on the front and the back. Fringe is a combination of a burnt amber tassel fringe mixed with metallic beads. This lampshade is 13" x 10" at the bottom and 14" tall including the fringe. This lamp comes with a larger matching tassel which is connected to the pull chain socket on the lamp -- pull the tassel to turn the lamp on and off.
Order # VS20642