Four Hearts Lamp Shade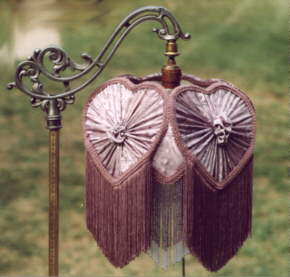 This shade can be made for a table or bridge lamp. There are 4 hearts which make up the larger panels. It is 10" across at the widest point and 7" high. In this photo it is shown with a 6" fringe. It can be made in custom sizes if you need a smaller or larger version.
Can we make a custom shade for you? Order #VS20515.
Price for the lampshade $245.00 - $345.00 depending on fabrics and trims.
Phone or 951-240-5663/email kelly@vintageshades.com
"TOO MUCH IS NEVER ENOUGH"
Visit Our Home Page For More Lampshade and Lighting Ideas